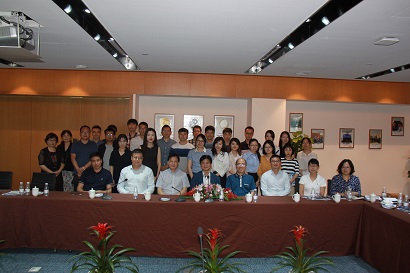 On July 20, 2019, Professor Wu Hongwei, the first Chinese president of the International Society for Soil Mechanics and Geotechnical Engineering (ISSMGE), visiting professor of Yangtze River Scholar of the Ministry of Education, Associate Vice-President of The Hong Kong University of Science and Technology (HKUST), Chair Professor of Civil and Environmental Engineering, was invited to Geoharbour for exchange and guidance. He also delivered an excellent academic report for the staff of Geoharbour and conducted an in-depth academic exchange.
At the meeting, Professor Wu introduced the application of geotechnical centrifuge in geotechnical engineering nicely. He elaborated on the centrifuge test of building collapse, the centrifuge test of a dam, and analyzed the key issues and necessity of the centrifuge test. He also explored in-depth the world's problem - how to define the liquefaction characteristics of dredged sand mixed with seabed sludge in the marine dredging project with Geoharbour and answered questions about the effects of rainwater in static liquefaction and centrifuge simulation experiments. Meanwhile, he introduced the relevant experience for his election as the President of ISSMGE, advised us to combine corporate engineering experience with theoretical research, and encourage us to transform advanced technology research into productivity.
At the end of the report, Professor Wu Hongwei reached a preliminary intention on the cooperation between Geoharbour and HKUST for cultivating excellent master and Ph.D. candidates.